As a member of the TECH-NET Professional program we agree to: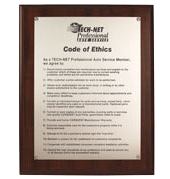 Recommend corrective and maintenance services and explain to the customer which of these is required now to correct existing problems and which are for preventive maintenance.


Offer customers a price estimate for work to be performed.


Obtain prior authorization for all work done, in writing or by other means satisfactory to the customer.


Make every effort to keep the customer informed about appointments and completion deadlines.


Furnish an itemized invoice for parts and services, priced fairly, which clearly identifies any used or remanufactured parts. Replaced parts may be inspected upon request.


Furnish or post copies of any warranties covering parts or service. Use quality Advance Auto Parts auto parts, guaranteed coast to coast.


Provide and honor Advance Auto Parts manufacturer warranties.


Exercise reasonable care for the customer's property while it is being serviced.


Make every effort to fix the customer's vehicle right the "first time".


Maintain a system for fair settlement of customer's complaints.


Cooperate with established consumer complaint mediation activities.


Uphold the high standards of the profession and seek to correct any or all abuses within the automotive industry.


Nothing but High Praise for this shop and all of their employees - Family business that provides exceptional service. Drove me home while they worked on my car the picked me up upon completion... Won't find that level of customer service at many privately owned repair facilities.. Customer Forever Boys!!!!!!!!!!
I had a pre-purchase inspection of a used car done at Pry Automotive in Butler. I was helped by Dominic and the service was amazing. My experience was one of honesty and straightforward communication. I live about an hour away and had scheduled this inspection to be done over the phone. Dominic had the vehicle come in as soon as he could, examined it, and called me afterward to give a comprehensive review of the issues and helped me figure out hypothetical costs for repair. This was my first time buying a used car and Dominic gave excellent advice beyond what was expected. I would highly recommend this location.
I heard about Pry from a new neighbor upon my recent move to the area. After having a new battery installed on my Jeep at a different shop, it failed inspection since the sensors had not completely reset, which I have learned is a common problem. I called Pry and explained my problem and John was as professional as you could ask for. He new my issue reassured me that it's a normal occurrence and I have set an appointment to have it repaired and inspected at Pry. I'll review after the work is done, but if the telephone call is representative of the way I'll be treated I believe I have found my local shop for all my car repairs and maintenance.